Fatal Opioid Overdoses are
Preventable with Naloxone
Beloved victims of fatal overdoses whose loved ones worked with Georgia Overdose Prevention for the passage of GA's 911 Medical Amnesty Law, and our cofounder Jeremy Galloway.
Naloxone is available from Georgia Overdose Prevention for those at high risk* of overdose and their loved ones.
Naloxone is also available at GA pharmacies, does not require a personal prescription, and is covered by most insurances.
high risk* – people actively using street or RX opioids and any other street drug, people in recovery from opioids or any street drug, sex workers, people with lowered tolerance to opioids from a period of not using drugs, people on MAT, loved ones of the person at risk.
What is GA's 911
Medical Amnesty Law?
Georgia Law Protects You
Protection for people who call 911 and seek medical assistance for someone experiencing a drug or alcohol-related overdose. The caller and the victim cannot be arrested, charged, or prosecuted for personal use quantities of drugs, alcohol, or drug paraphernalia if the evidence was obtained as a result of seeking medical assistance and the caller remains at the scene with the victim.
Our message is simple: Don't Run – Call 911!
Reported GOP/AHRC*
naloxone kit reversals:
9,334
*Georgia Overdose Prevention / Atlanta Harm Reduction Coalition
The naloxone/fentanyl test strip order form will be open on the 1st of each month through the 23rd. It will be closed on the 24th through the end of each month.
GA Overdose Prevention Needs Your Support
Georgia Overdose Prevention's mission is to educate Georgians about the new laws governing drug overdose incidents and to distribute opioid overdose rescue kits to anyone who knows a person at risk for opioid/opiate overdose. We created and were instrumental in the passage of Georgia's 911 Medical Amnesty and Naloxone Access Law in 2014.
We are a volunteer organization comprised of people whose lives have been impacted by the death of a friend or family member from opiates and opioids.
Please help us save lives by funding the naloxone kits that we are able to purchase at a discounted price and give away to those in need. We sincerely appreciate all contributions.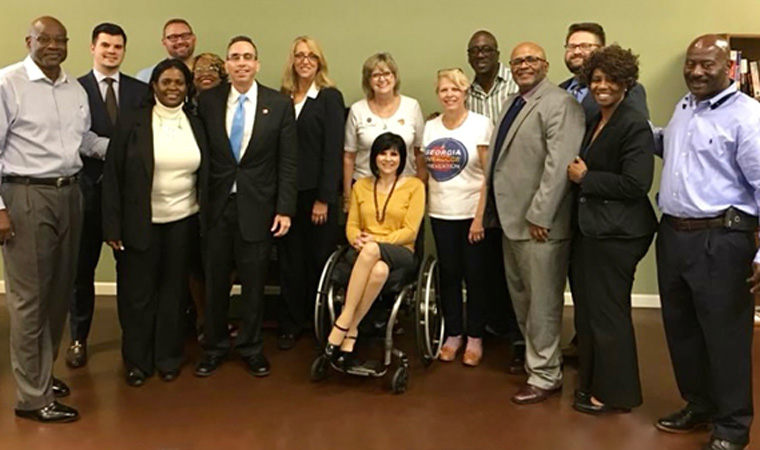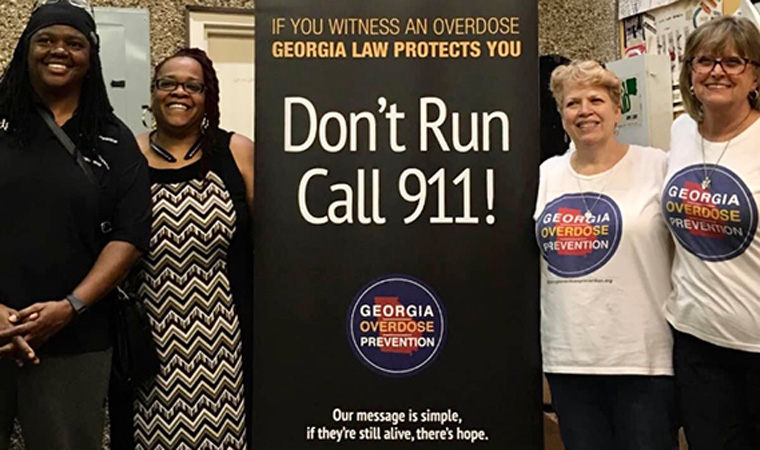 How do I make a donation?
You can make a donation online through AHRC or by check.
Through our partnership with Atlanta Harm Reduction Coalition (AHRC), Georgia Overdose Prevention is able to accept tax-deductible donations. 100% of the funds raised by GOP purchase the reversal medication naloxone, and each rescue kit contains two doses of this potentially life saving antidote when administered in the case of an opioid overdose.
Donations to Atlanta Harm Reduction Coalition are tax deductible!
Make a donation to Georgia Overdose Prevention through Atlanta Harm Reduction Coalitiion.
To donate by check:
Atlanta Harm Reduction Coalition
PO Box 92670
Atlanta, GA 30314
(write "GOP/Naloxone" on the check's memo line)
Keep up with current events
Follow us on Facebook at "Georgia 911 Good Samaritan Law"